A Rich History
For generations, our local Queanbeyan-Palerang community has enjoyed swimming. Whether it be swimming in the river or at one of our four pools, children and adults alike have all taken part.
In the early 1950's, local community and council members joined forces to plan and deliver the first of our local pools. Recognising the need for a safe, controlled swimming environment, plans were made to develop the Captains Flat pool. In December 1953, our local community officially opened the pool and since then we have seen the likes of our Braidwood, Bungendore and Queanbeyan pools open their doors to the local community.
Today, our four pools operate as one under the name QPRC Aquatics and offer a range of common programs and services. Whether you simply enjoy a leisurely swim, require swim lessons, need to book the children into a school holiday program or are looking for a birthday party venue; our four community pools have something for everyone.
Common Programs and Services
General Entry
Swimming Lessons
Lane Hire
Schools Program
Swimming Carnivals
Kiosks
Birthday Parties
Fees and Charges
A full list of Fees and Charges for 2019/2020 can be found below.
Conditions of Entry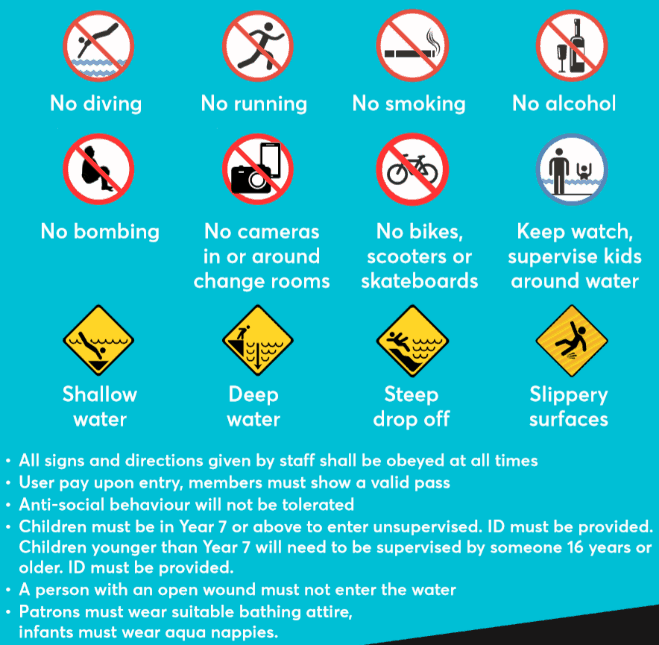 QPRC Aquatics wish to provide an environment that is safe and enjoyable for our patrons and staff.
QPRC Aquatics staff strive to enforce our Conditions of Entry consistently. We ask that both patrons and staff show respect for each other as well as the venue, Conditions of Entry and equipment in order to assist us in providing a safe and enjoyable environment for all.
By entering the premises, the individual (and if applicable the Parent/Guardian) acknowledge and accept the following terms and conditions.
Unsuitable Behaviour Guidelines
Overall Opening Hours
Video