The Queanbeyan War Memorial Swimming Pool (QPRC Aquatics Queanbeyan) was officially opened on Armistice Day – Saturday 11 November 1961.
The heritage listed facility originated with a seven lane, 50m pool that included diving towers and a toddler's pool.
In 2000, the 50m outdoor pool was upsized to include eight lanes and an upgraded filtration system was installed.
Serving the community well since 1961, it was recognised in the early 2000's that the local community needed a bigger aquatics facility. In 2004, a 25m indoor heated swimming pool was opened and then in 2018, a children's splash park was added to the facility.
QPRC Aquatics Queanbeyan offers a range of programs and services to the local community and is home to AUSTSWIM recognised swim programs run by Queanbeyan Leagues Swim Club, Aussi Masters Swimming and Lorrae Black Swim School.
Our Location
Visit Queanbeyan Aquatics at the corner of Crawford and Antill Street, Queanbeyan NSW 2620
Phone: (02) 6285 6346
Virtual Tour
Take a virtual tour of our venue!
People Counter
Are you somebody that wants to see how busy the pool is before you go? Then check out the link below.
How many people are at our venue now!
Season Operating Times
SUMMER
Saturday 2 October 2021 to Friday 8 April 2022
Monday to Friday – 6:00am to 7:30pm (8.00pm closing time from Wednesday 1 December 2021 to Monday 28 February 2022)
Saturdays and Sundays – 7:00am to 6:00pm (7.00pm closing time from Saturday 4 December 2021 to Sunday 27 February 2022)
SPLASH PARK 
Saturday 6 November 2021 to Sunday 20 March 2022 – Weekdays – 3:00pm to 6:00pm, Weekends – 10:00am to 5:00pm
Monday 20 December 2021 to Friday 28 January 2022 (School Holidays) – 10:00am till 5:00pm
Public Holidays (or where centre is open 10:00am to 5:00pm) – 11:00am to 4:00pm
WINTER
Saturday 9th April 2022 till Friday 30th September 2022
Monday to Friday – 5:30am to 7:30pm
Saturdays and Sundays – 7:00am to 6:00pm
CHRISTMAS AND NEW YEARS OPERATING HOURS 2022/2023 
CLOSURES
Christmas Day
Easter (Friday to Monday)
ANZAC Day
Maintenance
Adverse weather conditions
Staff unavailability
Our Community Facilities
YEAR ROUND FACILITY FEATURES
25m Indoor Pool
Aqua Fitness
Partners with Swim and Survive initiative
Partners with Keep Watch initiative
RLSSA 5 Star Accredited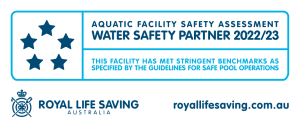 SUMMER ONLY FACILITY FEATURES
50m Outdoor Pool
Splash Park
Electric Barbeques
Shaded Grass Spectators Bank